I've always been an avid watcher of the Olympics and these Rio games have truly delivered a platter of awe inspiring series of events.
Great Britain smashed their medal target for the 2016 Olympics, achieved a succession of notable 'firsts' and caused a major stir by finishing second in the table, above global powerhouse China.
Of the 366 athletes that went to the Rio Games for Team GB, 129 of them – just over 35% – returned with a medal, including every member of the 15-strong track cycling team.
BBC Sport looks at Britain's Brazilian exploits in detail: http://www.bbc.co.uk/sport/olympics/37132833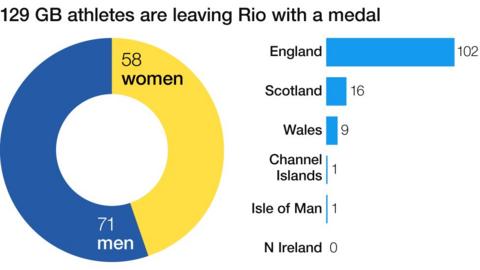 A medal in 19 sports
Of 31 sports, GB finished on the podium in 19 – a strike rate of just over 61%. That percentage is even better if you remove the six sports – basketball, football, handball, volleyball, water polo and wrestling – Britain were not represented in. Then it jumps to 76%.
The United States won medals in 22 sports, including 16 swimming golds.
In terms of golds, GB were way ahead of the pack, finishing with at least one in 15 sports, more than any other country, even the United States.
GB dominated track cycling, winning six of 10 disciplines and collecting 11 medals in total, nine more than the Dutch and Germans in joint second.
GB also topped the rowing table, with three golds – one more than Germany and New Zealand – and third second in the gymnastics, behind the US and Russia.